VALVE FITTING APPLICATIONS EXPANSION - OIL & GAS TO INDUSTRIAL
2021/03/23
Teamco
As the first manufacture in Taiwan who provides comprehensive API valve fittings in oil & gas applications, Teamco has successfully expanded this product line to more sophisticated applications, such as machinery equipment, fluid control, piping lubrication, production line pressure control, etc. Our core capability of customization serves various requirements from worldwide customers. For either popular specifications or custom requests, for either high volume or small lot demand, Teamco always take customer voices as top priority. We have Sales and Engineering Teams keep communicating with customers for making sure that we understand what exactly the customer needs.
For customers to understand specifications of valve fittings Teamco can provide, here we provide the specification tables on product web pages. From verifying the required thread size, body material (carbon steel or stainless steel) and constructions, let us know the referred Part No., Teamco will respond the soonest.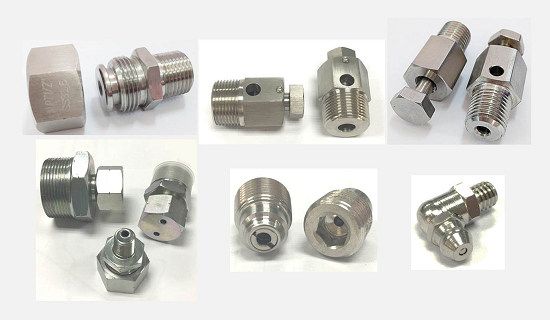 Teamco Provides Valve Fittings Applied for Diversified Applications.
More product information of our Custom Valve Fittings can be found on our web pages.
Grease Fitting
Pressure Relief Valve
Sealant Injection Fitting
Check Valve Fitting
High Pressure Grease Fitting
Grease Nipple
Related Products

---

Grease fittings used for grease lubrication for valve pipelines repair and equipment maintenance have been our main sector in valve fittings. We produce grease fittings most in stainless steel 316 and carbon steel 4140 zinc plated, other alloys are also in our material range, depending on required mechanical strength and corrosion resistance level. Our grease fittings are designed to achieve API pressure class of 10,000psi. Main applications of our grease fittings include oil and gas valve part lubrications and industrial fluid control equipment grease injection, etc. There are two head types, the giant button head and the full thread type, usually equipped with vented cap to enhance the sealing function. dustry.

---

---

Pressure relief valve is one of our valve fitting types performs as a safety mechanism to prevent accidents or explosions in extremely high-pressure environments. Teamco provides pressure relief valve which compliant to API 6D in oil&gas application. Pressure relief valves are components used in hydraulic systems to limit fluid pressure to a specific set level. Materials we produce include stainless steel, carbon steel and alloy.

---

---

The sealant injection fitting is one of our valve fittings used in feeding lubricants or grease into valve parts for repair or maintenance. Teamco produce these sealant injection fittings in customer specifications as backup sealing in pipeline valves or fluid control valves. These are primarily designed to provide periodic injection of lubricant or sealants into pipeline valves. The materials we produce include stainless steel 316, carbon steel 4140 zinc plated and Alloys. In Oil& Gas segment, most ball valves has two sealant injection fittings, generally one is located at the stem area and the other at the seat area. This is one of our major applications fits API pressure class of 10,000psi.

---

---