---
Sealant Injection Fitting
Teamco provides Sealant injection fittings based on customer specifications to be used as valve backup sealing in applications of valve piping or industrial fluid control. The sealant injection fittings are primarily a one-way check valve designed to provide for the periodic injection of lubricant/ sealants into pipeline valves. The materials we produce include stainless steel, carbon steel and alloy. In Oil& Gas segment, most ball valves has two sealant injection fittings, generally one is located at the stem area and the other at the seat area. These sealant injection fittings only function for emergency or backup sealing when soft sealing rings damage by accident. In this situation the sealant is injected to prevent stem leakage and temporarily seal the valve. Our injection fittings apply to API requirements and are exported to worldwide oil&gas and industrial customers, such as USA, Canada, Italy and Malaysia, etc. All the specifications we produce are based on the customer designs. When receive the customer request, our product development team will be able to recommend or provide the best solutions fit customer's diversified applications.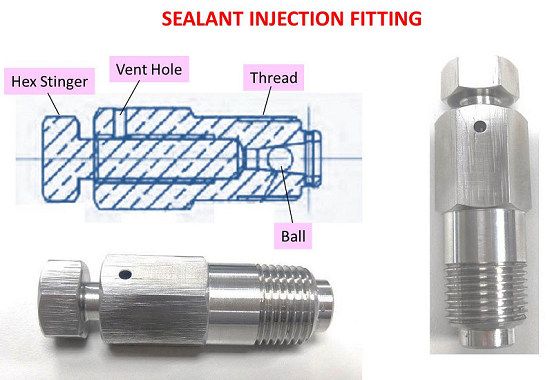 Custom Sealant Injection Fitting Applies to API Requirements.
Specification:
End Connection Thread Type: NPT 1/4", 3/8", 1/2", 3/4", 1"
Material Type: Inconel, SS316, SS304, AISI 4140 Zinc Plated, A105
Pressure Class: 1,000~20,000psi
Standards: API 6A

Please refer to below table or "Spec. Chart" in below Tag "DM DOWNLOAD" for popular specifications we produce.
Thread Size
Style
Body Material
Part Number
1/4" NPT
Floating Ball
4140 Zinc Plating
IFFB14-414
SS316
IFFB14-316
3/8" NPT
Floating Ball
4140 Zinc Plating
IFFB38-414
SS316
IFFB38-316
1/2" NPT
Floating Ball
4140 Zinc Plating
IFFB12-414
SS316
IFFB12-316
Basic Construction:
Description
Material Grades (Custom Specifications)
1. Body
2. Ball
3. Stinger
Body: Inconel X-750, SS316, SS304, 4140 Zinc Plated, A105
Ball: Tungsten Carbide, Inconel X-750, Monel K-500, SS316, SS304
Our ODM Services – Design, Manufacture and Test to fit Customer Applications:
Please provide us your requirements, our in-house engineering team will design or recommend the right grease fitting fits your needs.
- Main application
- Pressure class
- Material
- Thread type and size
Applications:
Valve Pipeline
Fluid Processing
Industrial Flow Control System
Purchase Information:
Lead Time: please contact our sales representatives for confirmation; defined productions and inspections are based on your requirements.
Minimum Order Quantity: Depending on required specifications (please confirm with our sales representatives)
Related Products

---

Pressure relief valve is one of our valve fitting types performs as a safety mechanism to prevent accidents or explosions in extremely high-pressure environments. Teamco provides pressure relief valve which compliant to API 6D in oil&gas application. Pressure relief valves are components used in hydraulic systems to limit fluid pressure to a specific set level. Materials we produce include stainless steel, carbon steel and alloy. The pressure relief valve feeds the excess flow back to the tank or out of the system when the set level is reached. It closes when the level returns back to normal. We provide ODM or OEM pressure relief valves, export to Europe and America. These pressure relief valves are used in oil&gas, industrial fluid control, liquid processing, etc. All specifications we produce are based on customer designs and requirements.

---

---

Teamco manufactures grease fittings according to customer designs for purpose of mechanical system lubrication. The provided materials include carbon steels, stainless steels and alloys, depending on required mechanical strength and corrosion resistance level. Based on various ways of lubricating the grease or lubricant when using the grease gun, the grease fittings can be in giant button head or standard head. The main application of our grease fittings are valve part lubrications in the midstream segment of the oil and gas industry. Our grease fittings apply to API applications. Virtually every valve with moving metallic parts needs lubrication. Lubricants help to reduce valve operating torque. Periodic maintenance makes valves operate easier and seal properly. Small amount of the correct lubricant into the body or seat rings, fresh grease into the stem bearings, checking the stem packing and refilling as necessary will add years to the service life of the valve. We export to worldwide industrial customers in USA, Canada, Italy and Malaysia, etc. ODM and OEM are services which make us a trustworthy partner for customers.

---

---

Teamco provides spring loaded safety relief valves used in applications of limiting pressure in an entire system such as pipelines and valves. The operation type is direct-acting or direct-operated. When set opening pressure is reached, the spring loaded element triggers and opens for venting the excessive pressure. The pressure adjustment range of our spring loaded safety relief valve is 20~25 kgs/cm². We produce both stainless steel 316 and carbon steel 4140. Specifications are based on customer requirements. Our spring loaded safety relief valves are used in a wide range of commercial hydraulic control, industrial fluid control, oil & gas processing, etc. We design, manufacture and serve diversified customer segments worldwide. Let us know your requirements and applications, our sales and engineering team will help fulfilling your needs.

---

---

DM Download

---

Product brochures for grease fittings.

---

---

Specification Chart of our Injection Fitting.

---

---