TEAMCO PROVIDES HIGH PRECISION SENSOR METAL PARTS
2021/04/30
Teamco
With more production capability expanded to high precision metal parts of fluid control segment, Teamco has expertise in fabricating super tiny sensor metal parts for various industrial customers, the sensing element parts for Turbine Flow Meter Sensors, Pressure Sensors and Torque Sensors. We have a wide range of compound CNC Swiss type and Turret type Automatic machines which complete turning, milling, drilling, boring and tapping in a single machine at one time. Teamco provides OEM services for sensing element parts to worldwide industrial customers, following the international material and inspection standards. We produce Carbon Steel and Stainless Steel the most and also provide required surface finish according to the requirements. Teamco provides diversified customers the total solution services.
More information about our products and services can be found in below product web pages.
Sensor and Transducer Metal Parts
Turbine Flow Meter Sensor Metal Parts
Pressure Sensor Metal Parts
Super Tiny Precision Machined Metal Parts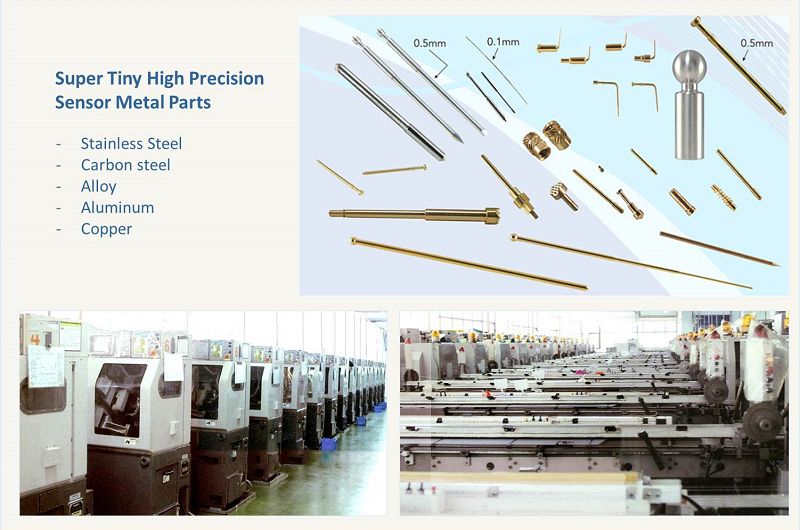 Teamco Provides High Precision Sensor Metal Parts in Custom Specifications.
Related Products

---

Turbine flow meter sensor metal parts in custom specifications are our major sensing element parts used in diversified industrial applications. These element parts include flow meter body, adapter, rotor, cartridge, retaining screws and shaft. We produce these parts in investment casting, bar stock machining, stamping or raw material fabricating. Turbine flow meter sensors we produce are used in broad range of sectors, including Liquid or Gas Processing, Fluid Control, Food, Pharmaceutical and Chemical Processing, Medical Device Monitoring, Industrial Safety Monitoring and Automotive Application, etc.

---

---

Grease fittings used for grease lubrication for valve pipelines repair and equipment maintenance have been our main sector in valve fittings. We produce grease fittings most in stainless steel 316 and carbon steel 4140 zinc plated, other alloys are also in our material range, depending on required mechanical strength and corrosion resistance level. Our grease fittings are designed to achieve API pressure class of 10,000psi. Main applications of our grease fittings include oil and gas valve part lubrications and industrial fluid control equipment grease injection, etc. There are two head types, the giant button head and the full thread type, usually equipped with vented cap to enhance the sealing function. dustry.

---

---