WAVE SPRING IN INCONEL X-750 FITS OIL & GAS APPLICATIONS
2021/03/15
Teamco
Teamco produces wave springs of Inconel X-750 compliant to international quality standard for Oil & Gas industries.
Teamco specializes in Wave Springs designed, engineered, and customized for customer's applications, especially the wave springs in Inconel X-750 material. With its high strength at high temperatures, Teamco is a professional manufacturer of Inconel X-750 wave springs for Oil & Gas industries. Inconel X-750 is a precipitation-hardened Nickel-Chromium Alloy with features of corrosion and heat resistance. Teamco follows the international standard of AMS 5699 to make all our wave springs achieve the strength through conducting required heat treatments. Inconel Alloy X-750 wave springs are springs in properties suitable for ultra-demanding working conditions, across various industry sectors, including automotive, marine, oil & gas extraction, power generation and petrochemical processing, etc.

Our ODM Services (please provide us your requirements):
- Working Environments (to select right material)
- Outer Diameter
- Inner Diameter
- Spring Load
- Working Height
- Free Height
- Solid Height
- Wire Diameter
- Wire Pitch

Applications in Oil & Gas Industries:
Oil & Gas Pumping Equipment
Oil Refinery Equipment
Extraction Machinery
Downhole Tool
Valves
Turbines

Types of Wave Springs Teamco Provides:
Single Turn
Nested Multi Turn
Multi Turn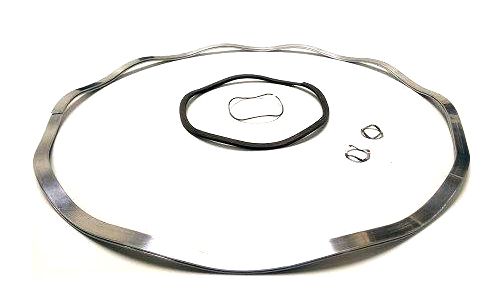 Teamco Specializes in Inconel X-750 Wave Springs.
Please find more information at our product web page: Custom Wave Spring.
Related Products

---

Specializing in producing wave springs used in oil & gas valve assembly parts, Teamco also has extended our applications to mechanical gear box and construction structural parts assembly. Teamco provides custom wave springs in single and multi-wave configurations. The produced material range includes Inconel X750, 718, 625, Stainless Steel, Carbon Steel and Other Alloys. Except the material selection, spring size and surface finish can also be customized according to specific applications. We have in-house tooling design center conducts computer aided spring calculations for each custom design so we are capable of providing OEM, ODM services and technical supports.

---

---