Custom Valve Fittings
Valve Fittings fit Pipeline Lubrication and Pressure Control Applications
Custom valve fittings are supplied for high pressure applications such as oil&gas pipeline, wellhead, petrochemical, refinery or industrial fluid control, etc. Functions of valve fittings include grease or sealant injection, pressure relief and flow directing, etc. We produce a full line of valve fittings meet various requirements of many types of valves. The materials we produce include Inconel X-750, SS316, SS304 or AISI4140, etc. Our main services are ODM or OEM according to customer specifications and applications. We export our valve fittings to worldwide Oil&Gas and Industrial customers such as USA, Canada, Italy and South Eastern countries, etc.
Product Categories & Product Types
Grease Lubrication
Grease Fitting
High Pressure Grease Fitting
Grease Nipple
Pressure Relief
Internal Check Valve
Pressure Relief Valve
Sealant Injection Fitting
Spring Loaded Safety Relief Valve
Oil Drain Plug
Materials (All materials per customer's requirement)
Inconel
Monel
Stainless Steel
Alloy
Carbon Steel
Brass
Standards
API 6A
API 6C
API 6D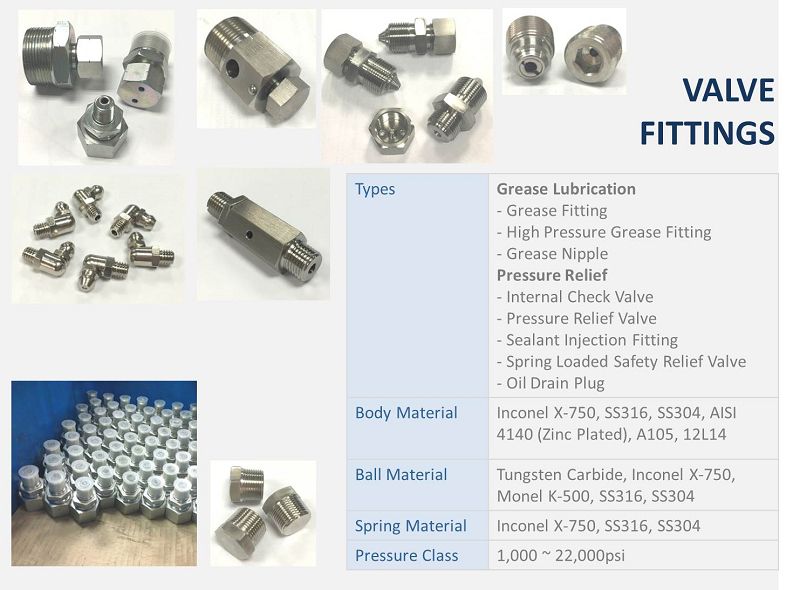 Teamco Provides Diversified Valve Fittings for Worldwide Oil&Gas and Industrial Customers.
Custom Fittings for Lubrication Application

---

Grease fittings and grease nipples are manufactured to fit the application of mechanical system lubrication. We provide these grease lubrication fittings in various thread types and sizes to fit customer's applications. Our grease fittings are compliant to API standards; therefore are used in oilfield equipment and pipeline valves, for either new facility installation or regular equipment maintenance. We offer the grease nipple in straight, 30 degree, 45 degree, 65 degree, 90 degree, flush type head, used in mechanical systems to feed lubricants into a bearing with moderate to high pressure under a grease gun. According to environment of usage and required cost structure, the provided materials include carbon steels and stainless steels. For the carbon steel types they are zinc plated for being corrosion-resistant. Let us know your applications and requirements, our service team will proceed based on your requests. We export to worldwide industrial customers in USA, Canada, Italy and Malaysia, etc. ODM and OEM are services which make us a trustworthy partner for customers.

---

Valve Fittings for Pressure Relief Application

---

Valve fittings serve as the safety mechanism used in flow or pressure control applications to prevent the access pressure. These pressure relief safety valve fittings are manufactured in stainless steel or carbon steel. Teamco provides ODM and OEM services based on customer specifications. Partial designs of our pressure relief valves compliant to API 6D in Oil & Gas application. Teamco exports these pressure relief valve fittings of custom specifications to USA, Italy and other countries in South-East Asia. There are several design parameters in determining which product is suited to the application, such as expected relief pressure, required flow rate, the used fluid (gas, liquid, toxic, or corrosive, etc.) and the expected operating temperature. So, a pressure relief valve is a safety device designed to secure a pressurized system during an overpressure occurrence during operation. Let us know your application and requirements, our sales and engineering teams will provide the best solution fits your needs.

---
---