Custom Industrial Precision Machined Metal Castings
Quality Castings to Customer Designs
Teamco is a dedicated steel casting foundry serves in industrial segment for more than 20 years. We provide custom products and services to worldwide customers. Founded with manufacturing sites based in Taiwan, we have also built up resources in other countries in Asia to satisfy diversified customer requirements. Being ISO9001 certified and experienced in meeting various materials such as ASTM, AISI, DIN, JIS, etc., Teamso is capable of performing required inspections according to customer and industry standards. Our served segments include Oil&Gas, Industrial, Petrochemical, Fluid Control, Mechanical Automation, Automotive, Construction, Building and Marine equipment hardware, etc. We have engineering team optimizes the tooling die design with simulation software; and we have professional machining team fabricates from castings or from raw materials according to customer's specifications. The major materials we produce include stainless steel, carbon steel and alloy steels. To achieve various product strengths or features fit required applications, we are able to provide the assigned heat treatments or surface treatments. All is based on customer designs and specifications. OEM service is our core concept. Complete custom service is our commitment.
Why Choose TEAMCO
● Global network and well-positioned support (Taiwan, China, USA and Thailand).
● Vast experience in machined steel castings for more than 20 years.
● Good knowledge of industry quality standards in industrial applications.
● In-house pattern and tooling die design capability.
● In-house quality inspections and NDT (Non-Destructive Tests).
● 100% OEM and customization.
Features of TEAMCO Castings:
Global Manufacturing Sites
Our global manufacturing sites (Taiwan, China and Thailand) help provide flexibility in achieving diversified customer needs. The sales office in USA provides technical support, logistics arrangement and inventory services. We export the custom metal parts to Canada, Germany, Italy, Japan, Switzerland, UK, USA, etc.
Technology Refining & Advancing
We keep moving forward to innovating manufacturing technology on quality, efficiency and cost. The whole Teamco team is dedicated into providing customers the best metal parts solutions.
Compliant to International Quality Standards
We are ISO: 9001 certified foundry and have been producing parts fit customer or international standards.
Highly Technical Support
We have development team with expertise in casting and machining for more than 30 years. Either new materials or specifications, we work actively discussing with customer and production team, work hard to accomplish designs into real objects. This is how we are highly trusted by customers.
Steel Castings We Produce
Stainless Steel Castings
Carbon Steel Castings
Alloy Steel Castings
Materials
A351-CF3 (304L SS)
A351-CF8 (304 SS)
A351-CF3M (316L SS)
A351-CF8M (316 SS)
A747 CB7Cu-1 (17-4PH)
SS/15-5PH, Duplex SS
A216-WCB
A216-WCC
A216-LCB
A352-LCC
IC 1010 ~ 1040
IC 4140 (Alloy Steel)
SKD 11 (Die Steel)
A487
Inconel
Titanium Alloy
Part Size:
Investment Casting
Sand Casting
300 x 300 x 270mm
2" ~ 12" flow way size
Part Wt. (Kgs):
Investment Casting
Sand Casting
10g ~ 30Kgs
20Kgs ~ 500Kgs
Applications
Energy: oil&gas (midstream piping valves), petrochemical, power generation equipment
Fluid Control: flow control, food process, chemical process, pumping
Engineering: automation equipment
Machinery: mechanical equipment, hand tools, machining tool components
Automotive: system components and accessories, heavy-duty vehicle components
Construction: building hardware, locking components, fire safety device
Others: electronics components, boat equipment metal parts, structural components, tool die
Our Casting Process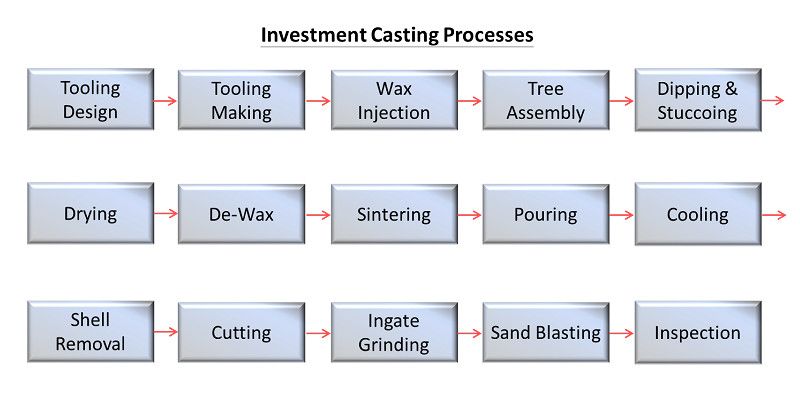 Our Investment Casting Process.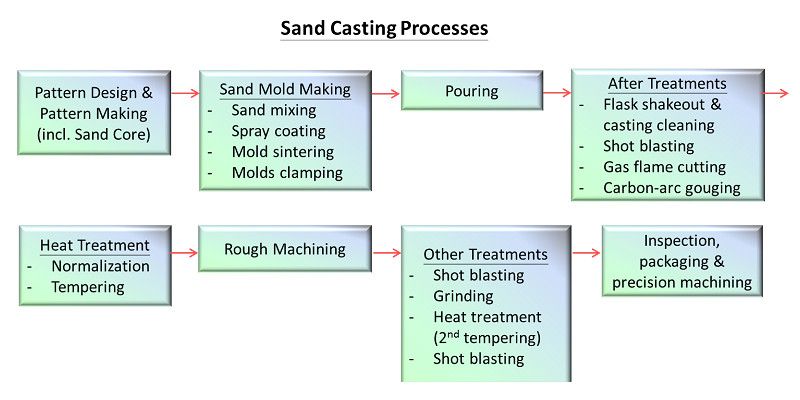 Our Sand Casting Process.
---