Customization
Partnership of Customized Services – OEM and ODM
From prototype to full production, Teamco provides quality and competitive machined metal parts solutions for demanding applications. With capability built up from casting foundry manufacturing, we deliver diversified custom solutions, from Oil & Gas valve segment to other industrial segments include mechanical machining, fluid control metering parts, pressure sensing components, heavy duty security locking components, marine hardware, etc. We offer comprehensive single-source capability. To expand our services range to fulfill more customer requirements, Teamco has also built up professional team responsible for providing the Industrial Cable Solutions. We keep moving forward help industrial customers retaining market competitiveness.
Teamco's Main Custom Services:
Metal Parts Services
Custom Valve Fittings
Custom Springs
Sensor and Transducer Metal Parts
Custom Industrial Precision Machined Metal Castings
Custom Precision Machined Valve Parts
Machined Element Parts and Hardware Components
Cable Assembly Services
Industrial Cable Solutions
WHAT WE DO – ONE-STOP TOTAL SOLUTION
Procedures of our customized services:
Analyze Customer Inquiry
Evaluate Feasible Solutions
Provide Best Solutions
Follow-Up and Continuous Improvement
Major contents of our customized services:
Confirming Specifications
Product Applications
Technical Support
Working Model
HOW WE DO – CUSTOMER-DRIVEN THEN CUSTOMER SATISFACTION
Through continuously understanding customers, Teamco aims to be a trustworthy partner of best solution provider for customers. When receive customer inquiries, such as drawings for quotes, material type change, production method change, adding additional production procedures, or urgent shipment arrangement, etc., our contact team responds and proceeds requests in top priority. Always "check" and "confirm" with customers is our golden rule. This is to make sure that we really understand customer needs. To achieve the comprehensive communication, the cross-department cooperation between Teamco and the customer is always involved. While at the stage of integrating all best resources, our evaluation is based on fulfilling the customer requirements and help maintaining competitiveness for the customer, which solution would benefit customers the most. Except the sales team, the engineering team, customer service team and quality assurance team all engage efforts into the commitments we provide to customers. From sample making to successfully mass production, we build up mutual trust with customers then achieving long-term partnership.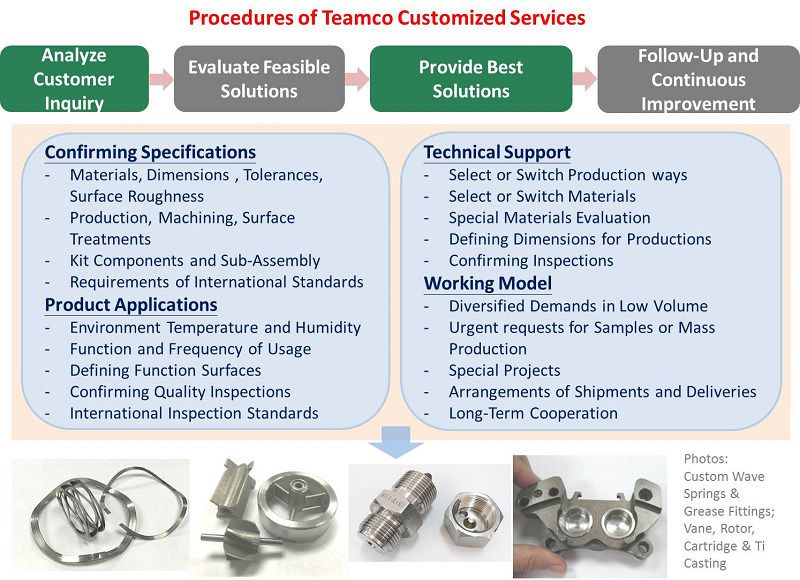 Complete Customization is Our Core Business Concept.